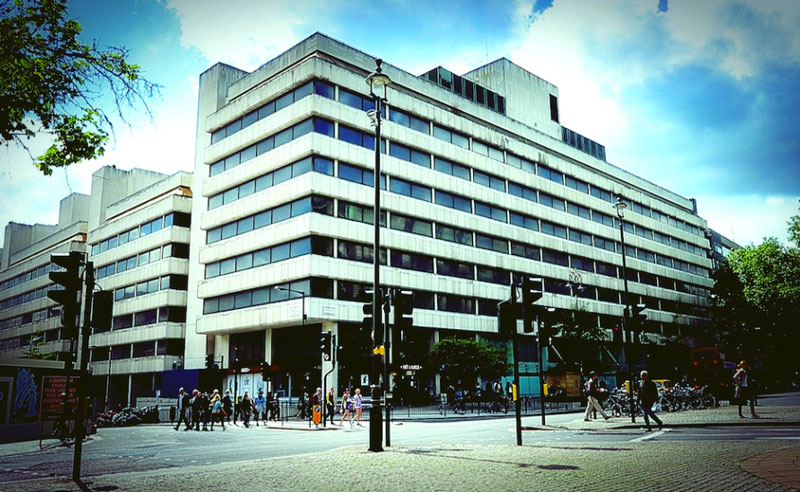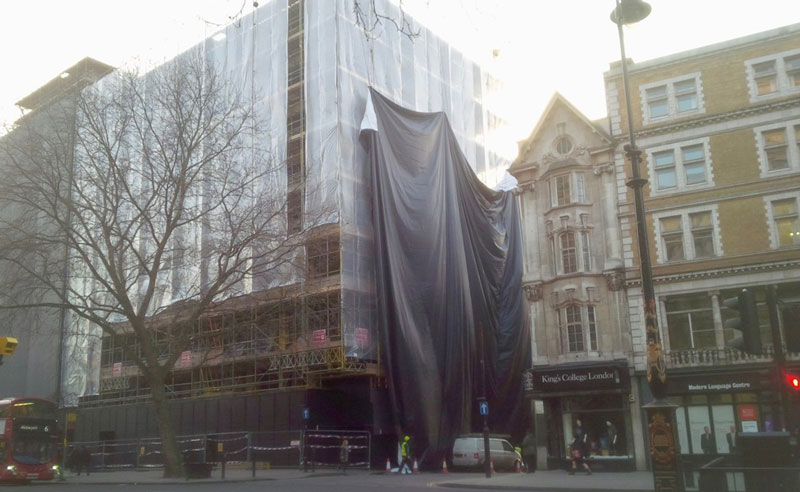 180 The Strand
THE DEVELOPMENT London Fashion Week and the London Fashion Week Festival are two of the most important events in the UK fashion calendar. The Store Studios on the Strand in London is hosting both events in 2017. However during the February events The Store was having a makeover of its own, with essential works taking place on the façade which required the use of unattractive wooden hoarding and scaffolding which would be in place for the duration of the events.
THE BRIEF Embrace were tasked with covering the scaffolding on two sides of the building with a simple black building wrap. Simple in design but not in execution due to the sheer size of the banner – over 2,000 square metres – and the immovable deadline of just three weeks that was involved.
THE SOLUTION Not a problem! We were able to produce and install the building banner (which measures 26 metres high by 79 metres long and was produced in three seamless sections) in time for the launch of London Fashion Week. Having received the instruction on the 27th January our expert team were on site the very next day working over the weekend to build the three extended frames which would support the scaffolding banner and wrap around the building from the Strand around into Arundel Street.
For the banner support we installed our bespoke tubular frame, offset from the face of existing scaffold by 300mm with vertical support beams at 5m centres to add rear support – keeping the banners away from the main scaffold fixings in high winds. We only use banners of the highest quality and our PVC banners were pre-printed and manufactured with heat-sealed Kedar edges, producing a smooth and taught surface on installation. These were then reinforced by metal eyelets at 300 mm centres along each edge, which are vastly superior to low quality plastic alternatives.
Early into the project we were also asked to extend the banner to cover more area – resulting in an overall 29% increase in size. Again our team are more than equipped to handle changes and accepted the challenge without hesitation. Despite high winds and inclement weather we battled through and installed the first banner on 10th February, second on 14th and final on 15th – a day earlier than the installation was required to be completed. We delivered the project on budget and on time, having received the confirmed instruction on 27th January and with full completion by 15th February, two days before the event opened its doors.