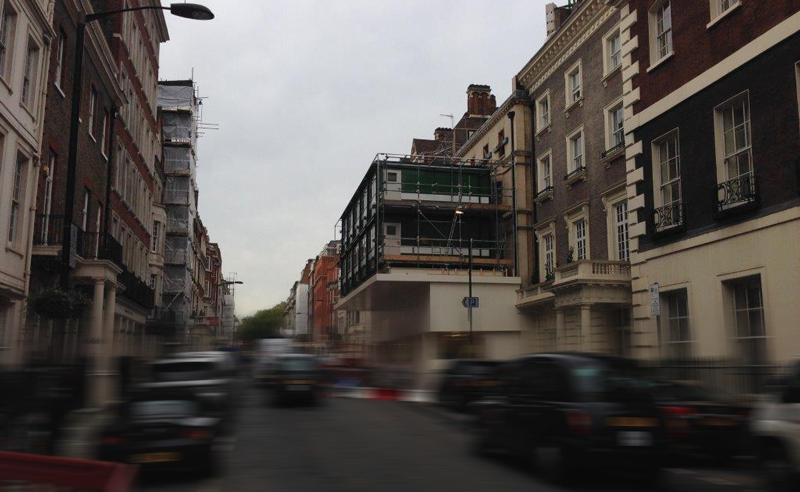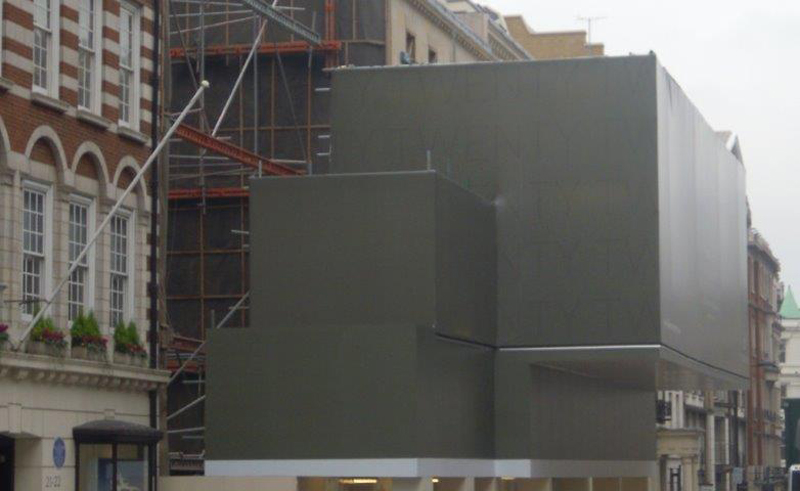 20 Grosvenor Street
THE DEVELOPMENT Grosvenor Estates and Sir Robert McAlpine, our clients at 18-20 Grosvenor Street, were redeveloping the location to create five floors of new office space and two retail units whilst retaining the original façade and heritage features. The project is due to complete in 2015. Given such as a desirable address in Mayfair it was essential to maintain the prestige of the area whilst the re-development works were taking place.
THE BRIEF We were appointed to develop and install a building wrap solution that was in keep with both the area and the brand credentials of all involved. With this type of project the appearance of the development being maintained to exceptionally high standards was absolutely essential. The printed graphic wrap would need to disguise not only the scaffolding frames but also the builders cabins located on site, along with using printed DiBond to the hoarding at street level. Basically, hide everything that does not look good, and make it look smart!
THE SOLUTION The Embrace Building Wraps team understand fully the complex requirements of wrapping building and the associated works – with unique requirements to mould the wrap around a range of extended 'box out' to ensure a full and complete wrap. We are experts in the field and naturally found a perfect solution for our clients. Our solution included banners to scaffolding along with premium DiBond to the lower site hoardings to ensure a fantastic, quality image at the development. We used various extended box frames to totally conceal the works. In terms of maintaining the prestige of the Mayfair address, we used hanging flower baskets and bespoke illumination to create a stunning ambience and aesthetic for the building.
As you would expect with any Embrace project, irrespective of the complexity, we delivered the complete solution exactly on time and bang on the budget. We always complete an exhaustive checklist for all of our projects to ensure that things will not stray from the agreed plan. We are so confident in this that we guarantee it – with Embrace you will never pay more for the project than the quote you receive following our site survey. The end result is stunning and enhances the brand reputation during works unlike with ugly, exposed scaffolding.