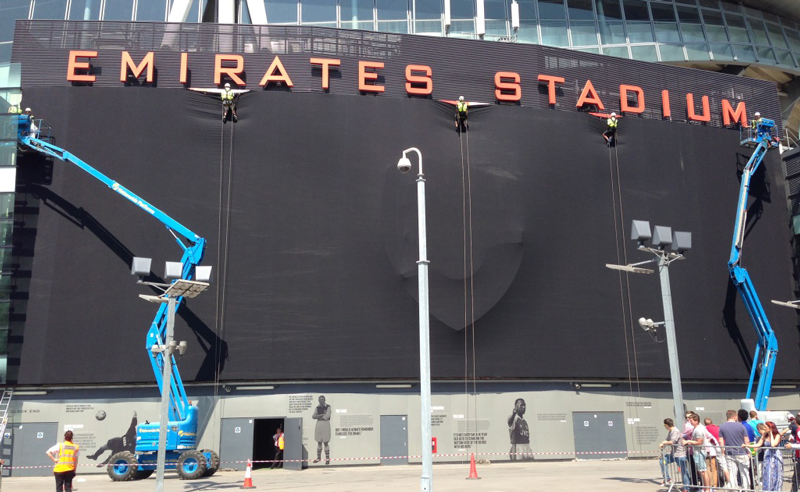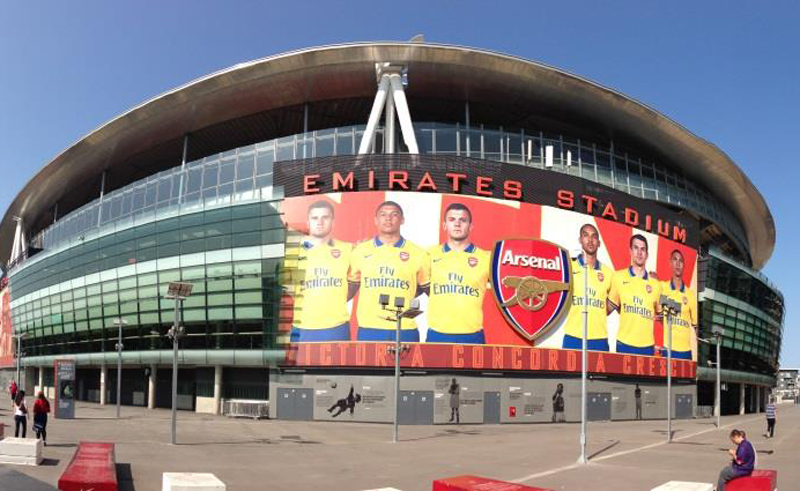 Arsenal Football Club
THE BRIEF When Arsenal Football Club was planning the launch of a new away kit, they knew that they wanted to make the biggest impact possible. And what better way to drive a massive PR buzz and fan excitement than by using the front of the Emirates stadium itself. It was always going to be tricky though? How do you install a giant building wrap on a stadium with no-one noticing and then keep it hidden until the players come out during the exciting launch event for the big reveal moment?
THE SOLUTION What's the answer? Get Embrace Building Wraps on your team! We were recruited to produce and install the giant 500 square metre banner, cover it and then expose it real-time during the kit launch event. Using a team of nine people and two giant machines we installed the banner, working through the night before the day of the launch. With over 2.5 million Arsenal fans wanting to catch a glimpse (and share around the world ahead of the official launch) we went to extreme measures to make sure nothing was going to spoil the big reveal).
With a massive media event taking place the following afternoon we covered the banner too and were all on site to make sure the big reveal went without a hitch despite the complexity. Not only did we plan and execute the big 'wow moment' reveal, we also had to produce the banner in three separate interlocking section so that it could wrap around the permanent badge on the front of the building too. Perfection – as the team stepped out in front of the stadium in their fantastic new kit to greet the excited crowd the cover was successfully removed, revealing a giant scale image of some of the players in the kit.