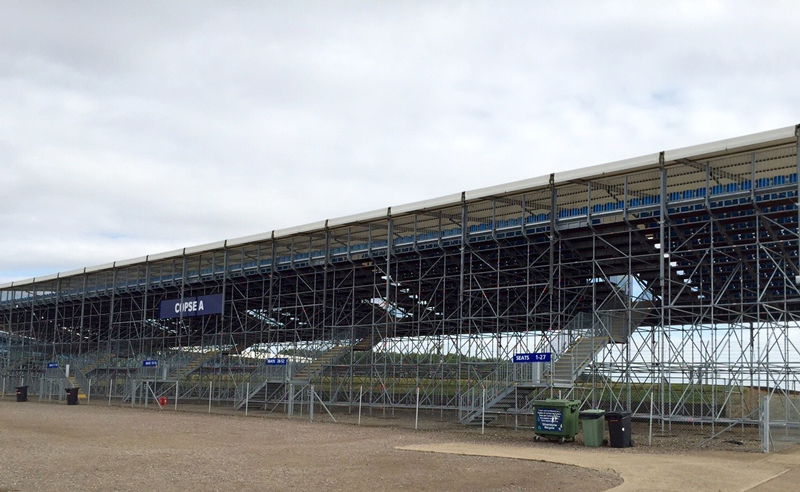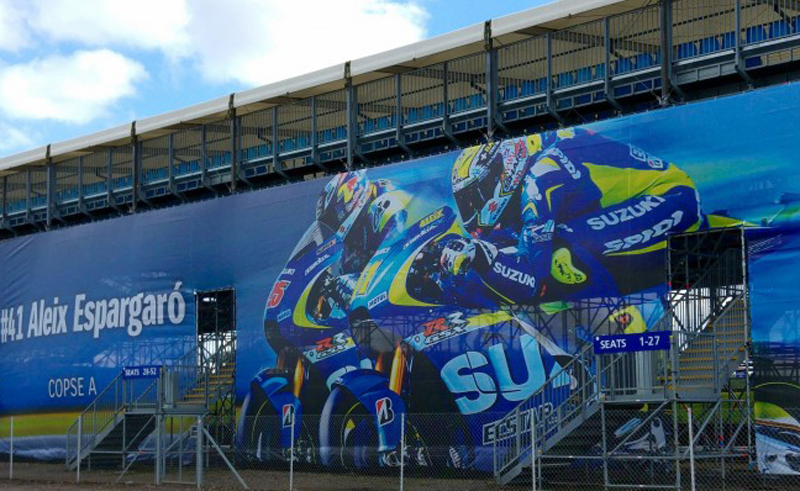 Silverstone
THE BRIEF Our brief from MindWorks Marketing was to maximise visibility for their client Suzuki GB at the 2015 Octo British Grand Prix MotoGPTM at Silverstone. Two riders were taking part for Suzuki and as such we were asked to transform the reverse side of a grandstand into a huge promotional space for Suzuki motorcycles using a giant printed banner, working with very strict timelines.
THE SOLUTION The whole project was completed within just 8 working days from the day that Embrace Building Wraps were issued with a purchase order from the agency.We had the resource to get experts on site to carry out a full site measured survey, supply the exact dimensions to the creative agency on a scaled template and have the artwork proofed and back to the client for approval.We then arranged for the print facility to work over a weekend to print & manufacture the 800 m2 mesh PVC banner in one single piece, with the added complication of creating five separate void areas to accommodate the spectator stairwells. Risk Assessment & method statements were approved with the team at Silverstone who also granted us permission to work on site following thorough checks. On the seventh day we were on site attaching our bespoke wire frame system to the existing grandstand.
On day eight we had the digitally printed banner shipped to site overnight and then installed safely using two cherry pickers in high winds to meet the deadline. Of course we ensured that we were off site with the location cleared in order to allow Silverstone to carry out operational tasks in advance of the popular event.Working exactly to our client's requirements, we were able to be back on site after the event to remove the banner on a bank holiday Monday.The end result – delivered on time and to budget – received high praise from our client, Suzuki GB and the team at Silverstone alike and was to be the focus of a social media 'selfie' campaign, along with being used for publicity shots with both of the Suzuki riders.