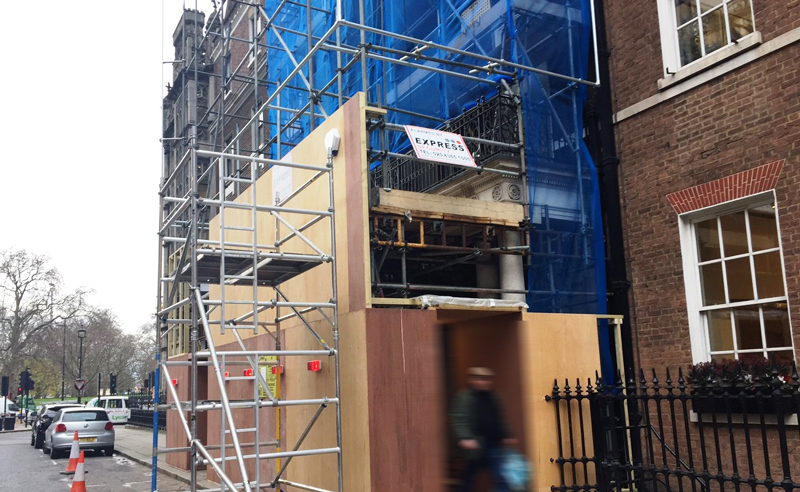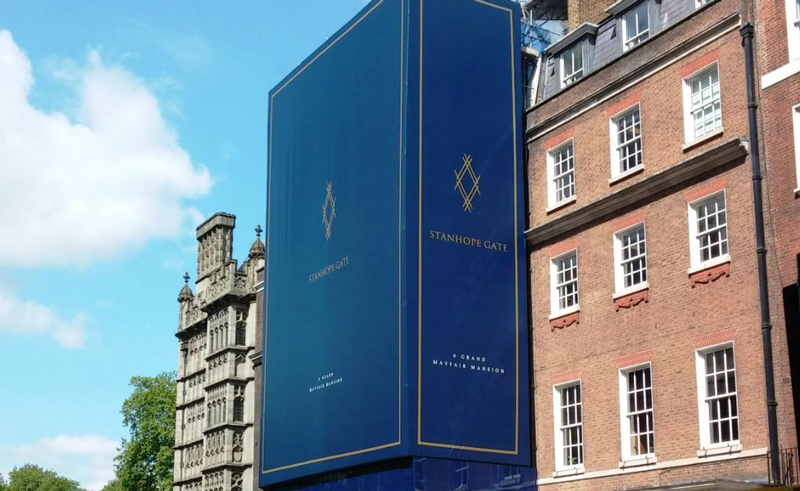 Stanhope Gate
THE DEVELOPMENT 10 Stanhope Gate is a grade II listed building located close to Hyde Park in Mayfair that originally dates right back to 1757. The property is a ten bedroom terraced mansion at one of the most desirable residential addresses in London.
THE BRIEF Embrace Building Wraps were appointed to wrap the front façade of the development whilst works were being carried out inside the property. Great care was required to protect the historic building and original frontage features such as the Edwardian cast iron balconies. And of course, in such a prestigious area it was essential that the final wrap created a premium quality atmosphere.
THE SOLUTION The project was managed entirely by Embrace and involved the erection of an extended frame away from the main scaffold frame to carry the banner, along with the print & installation of the building wrap itself on the front elevation and to both sides. At street level we delivered the cladding of the wooden site hoarding beneath with a high gloss printed self-adhesive vinyl with cut-out individual letters & logos. Applying the letters over the vinyl delivered the all-important super premium finish. The building wrap and hoarding graphics combined totally encased the building during the works and created a premium feel, giving the property striking impact when viewed from any angle. The creative is simple and stylish and supported Beauchamp Estates with the marketing of 'A Grand Mayfair Mansion'.
As you would expect with Embrace Building Wraps, this fully project managed job was completed on time. And as our clients would also expect it was delivered on budget too – we are so confident of this that we guarantee the price following our initial site survey. Stanhope Gate is just one of many successful Embrace installations in Mayfair, across London and around the UK. If you would like to see more of our recent projects take a look at our showcase.