Preserving our heritage at important locations
Embrace Building Wraps have recently completed the installation of a 360 degree building wrap covering temporary cabins at the Main Quad at UCL (University College London) in Bloomsbury. Whilst the two tier cabins will provide extra educational space for students for the next five years they are located at the Main Quad at UCL, an area surrounded by Grade I listed buildings.
As such it was vital that the completed wrap should be sympathetic to the style and nature of its neighbours and enhance the panorama rather than detract from it.
Speaking of the project Greg Forster Managing Director at Embrace Building Wraps – commented
"When undertaking a project such as this we are incredibly aware of the exceptional interest that these historic building have and are mindful of that at every stage of the process. The UCL estate includes seven grade I and 44 Grade II listed buildings and the main campus is located within a conservation area. Fortunately with our years of experience we are able to ensure the rich views are preserved and even enhanced throughout periods of disruption."
Greg continues,
"We have also completed numerous installations covering the façade of Grade II listed buildings during works. We are the only choice when great care must be taken in preserving our heritage for generations to come."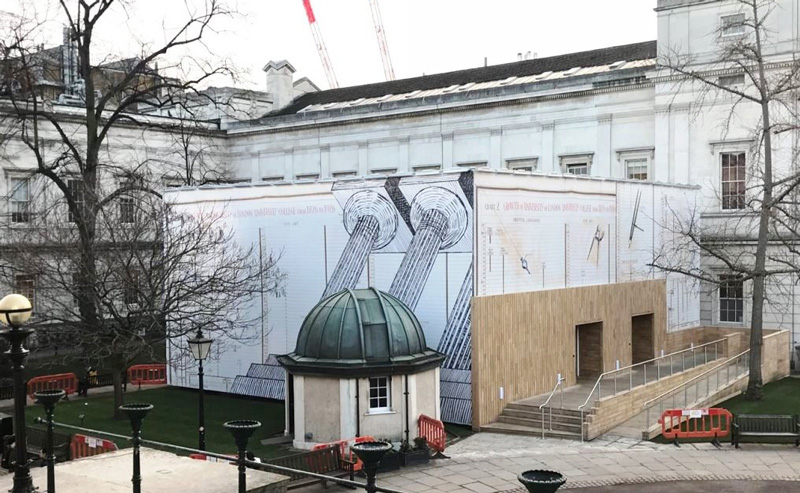 To find out more about Embrace projects at Grade II listed sites take a look at some of our recent case studies below.
Dartmouth House – Printed scaffold banner at the grade II listed home of the English-Speaking Union in Mayfair.
Southampton Row – Printed hoardings, building wraps and billboard site at the early 1900s property in Bloomsbury.
Colmore Row – One of the largest building wraps in the UK covering the renovation of five Victorian terraced properties in a conservation area in Birmingham – a classic example of 19th century design.
Stanhope Gate – A building wrap and printed site hoardings at a grade II listed property in Mayfair that dates back to 1757.
St James Market – A giant 2,200 m2 building wrap during renovations that includes the restoration of the historic listed stone facades.